Discussion Starter
·
#1
·
Hello all!
My name is Teresa and I am a new hedgie owner. Do not fear! I have been reading through the forum (and the website, plus a bout a million others!) before I even purchased my hedgehog! I couldn't decide where to get my first hedgehog from.... there are very few places who sell them here (Illinois) and I kept running into Albinos, whose eyes scare me so I had to pass! I found my little lady on craigslist, and after a week or so of talking to her owning, she came home! I named her Noodles. I was told she is about 4 months old, but I find that EXTREMELY hard to believe because of her size.... (let me know what you guys think when you see her picture). She is a chocolate pinto, from one side she looks to be high white, from the other not so much. She is SHY!!! She was very acclimated to her previous owner, who had no trouble handling her, but she huffs and puts her quills up half the time my hand is in her cage. I am not giving up on her of course! She is such a cutie! She is happily hand-fed, to get her used to me being in the cage, she has a piece of my shirt in her igloo and she sits with me from time to time.
Every week, she is getting an "upgrade" to something in her life! This week we connected her original bin to her new larger bin for an overall larger home. The bins have holes drilled throughout the sides for air circulation (much higher than she'll ever be able to reach though). The tops of the covers were cut out and heavy duty closet shelving was cut and zip tied to the covers for a strong lid. (No kittys will get in there this way!) The cages are connected by a CHUBE, which has plenty of overhand into both bins and is immovable unless by a bit of human force. We DIY-ed her wheel, which is a lovely pink. She likes to flip over her fluffy bed to make a hut out of it occasionally. The room she is in is kept warm, and if it is not, I have a snuggle safe disc that I use occasionally (though she doesn't like the warmth at all, she prefers it when it has no hear...) and a heating lamp with CHE that will be set up soon!! You will notice in her sleeping bin, I am not using the carefresh that i am using in the other, I am actually using a cat litter mat, which is fabric on one side and a plastic on the other so as to keep in moisture and what nots. Super easy to clean and I don't have to cut any fleece! I just picked up some fleece to make her a snuggle bag tomorrow. Whenever I am in the room I take the covers off, but when I am at work/school I keep them on so the cats don't bother her.
Here's a pic of it closed: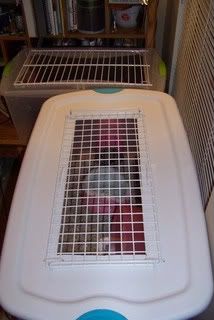 Here's a pic of it open: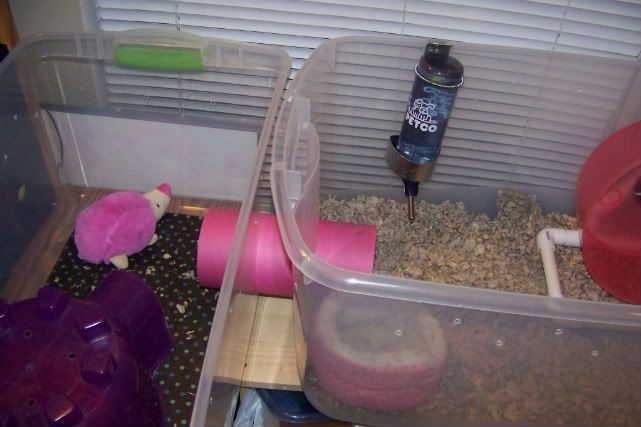 *She left you guys a present!*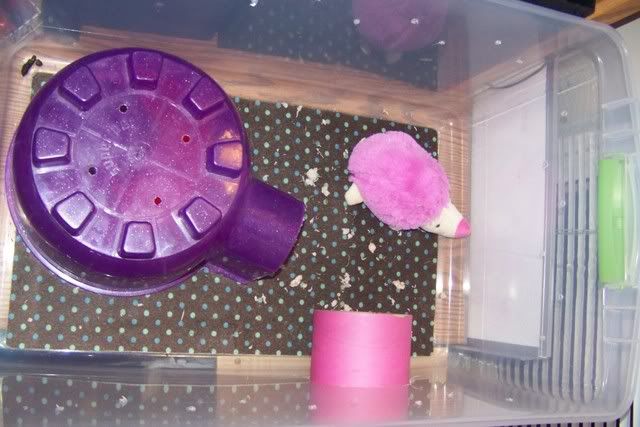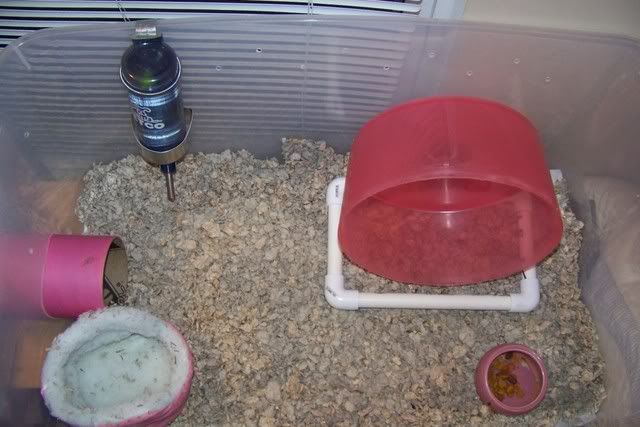 And here she is: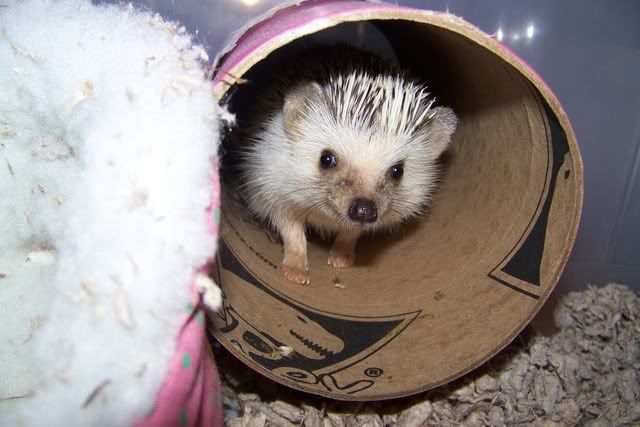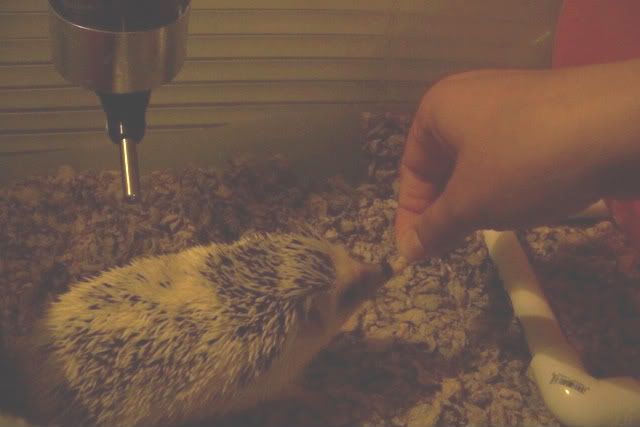 I was hoping to get her some Spike's Delight at an Animal Expo that was in town this weekend, but no one had any
So I will be ordering some this week! She is always enjoying bits of cooked (unseasoned) chicken and mealworms. She's not a fan of hard boiled eggs, and that is where we are at right now!
Thank you all for having such great information for us newbies!!