Discussion Starter
·
#1
·
Hey everyone, I just wanted to share something I got for Inky the other day...
At Walmart I found a pop-up dog kennel, which I've been looking for an inexpensive one for a little while, for travel. (some I've found are $50+ for a decent size!!!) I ended up buying a Sport Pet Pop Open Dog Kennel, medium. I suppose I could have easily gotten the small. :roll: The medium, is, well, huge. But that's a good thing, for me, with one hedgie and more space. I got the red one at Walmart for $16. (I believe it was on sale...) The dimensions are 22" wide by 36" long by 22" high. It's about regular cage size!
Here's a link to the medium one:
http://www.walmart.com/catalog/product. ... id=5192525
Okay, pros, cons, then pics.
Pros:
-It's huge, which I want him to be able to stretch and run on his wheel.
-Inexpensive, less than the cost of most foldable/popup kennels
-Folds into this teeny little thing that is so easy to store
-On the sides, the mesh is high up so it's harder to climb/scratch on it
Cons:
-The red is EYEPOPPING!ly bright
-The wire-things that bend or twist or whatever to fold it up again are pretty stiff, you need some biceps to fold it back up!
Here's some pics:
Package-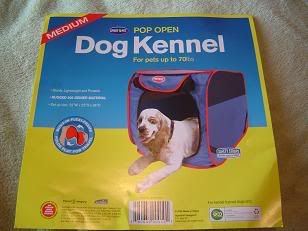 Popped up w/o any stuff (except my sister there, heh)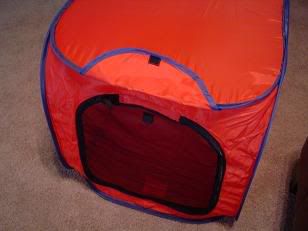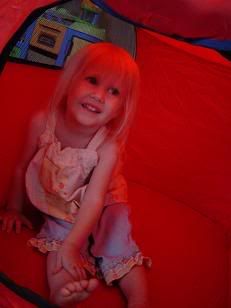 Folded up w/Inky modeling-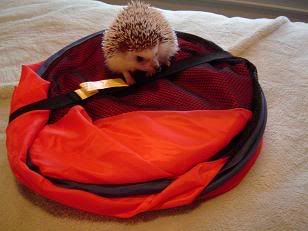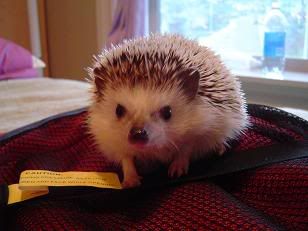 Stuff in, w/door open and not-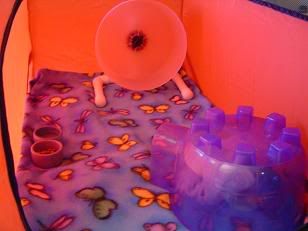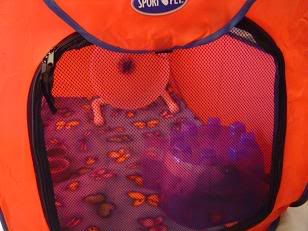 Hope those pics are okay. I thought people going to shows/travelling might be interested, since it's compact for tossing in the car. If anyone else has an opinion on this or a similar product, I'd be interested!