Discussion Starter
·
#1
·
Hello to Everyone,

I decided that it was time for my first post because I am finally getting my first hedgie!!! I've wanted one since I was a child so this is exciting for me and my family as well!!! I don't have a name picked out for my little girl yet (I have a few ideas though!) but maybe I'll decide once I meet her tomorrow.

This site has been so helpful with all of the questions that I had~ boy have I learned a lot, so thanks again to everyone in advance for all of your help and ideas.


By the way, I get a kick out of everything being Canadian-based because the company I work for (well, my biggest customer) is based out of Canada.


I'll post pictures as soon as I can.
PS~ I'll be the crazy hedgie mom that makes clothes and dresses her little girl (went to school for fashion design) and takes a million pix! lol I can't wait to share.

Introducing everyone to my little Miss Muffet!! <3
She was born September 24th. Her and her brother are VERY tiny~ the smallest the breeder had seen, so we're not even sure how big she will get! I'm going to start weighing her tonight to make sure she's putting on weight but she's so active and has a healthy appetite. She had a ball on her wheel the first day/night, ate a bunch (even a few meal worms I snuck in there the first night and a few tiny crickets the second night-Plus I didn't have to count pieces of food from over night because I got to watch her eat a bunch before I went to bed!), and even rearranged a bit (that toilet paper tube keeps mysteriously moving! lol). I have her in a temporary bin that the breeder gave me to keep her in for now because the cage I have for her is so big compared to her. The breeders were great! We actually had a fun time meeting them (my sister and niece came with me) and meeting my baby's mommy and daddy!

She has a great personality and isn't shy at all. It is hilarious watching her jump at all the noises but she's getting used to my voice already. I just tell her it's me and that everything's okay and she unhides her little face! I took her out once yesterday where she crawled on the floor, in my hands of course, and my mom got to hold her (she loved it- until Miss Muffet started walking up her arms and she didn't know what to do! lol she's already offered to hog sit whenever I need! lol). My fiance' is afraid to hold her yet- I think he's afraid he might freak a bit when he gets poked so I'm waiting for a day when they're both calm and I'll introduce them properly! lol So anyway, so far so good.

I couldn't have asked for a sweeter hedgie~ I just wish I didn't have to work but it's probably a good thing because I would probably sit at home and watch her sleep all day! My fiance' says I must have said the word "hedgehog" a million times in the last 2 days! lol Can you tell I'm excited?!? <3
This is Miss Muffet exploring her wheel!

this was the middle of the night when I couldn't sleep (AKA prime time to watch my new baby at play!) Scared her with the flash on this one! lol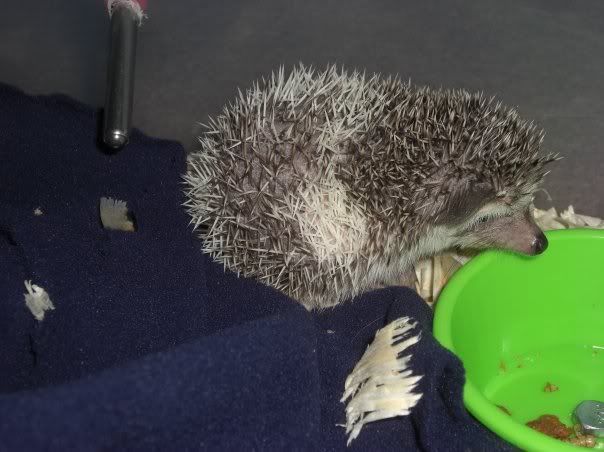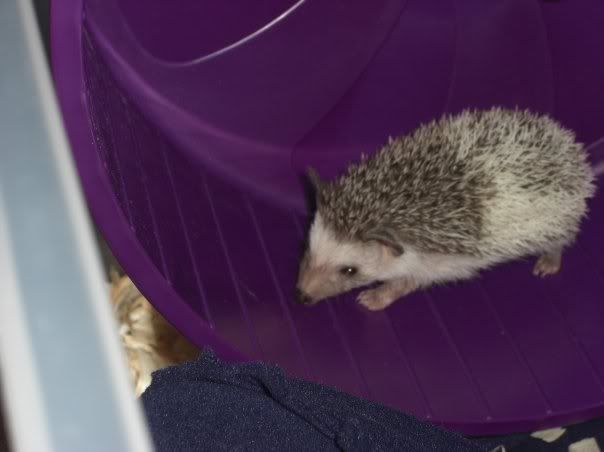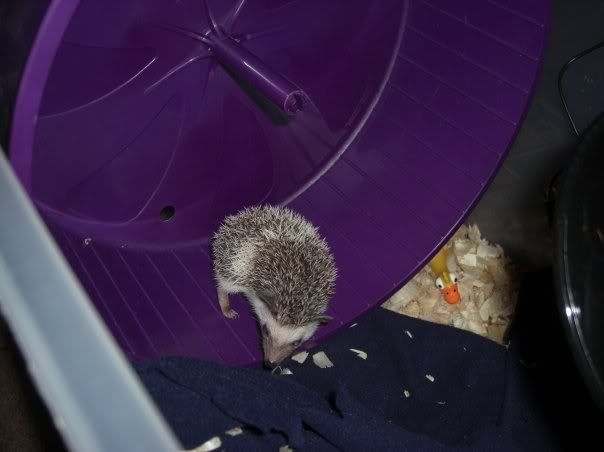 Checking out a meal worm~ She annointed herself for the first time with me after chomping down on one!! lol so cute!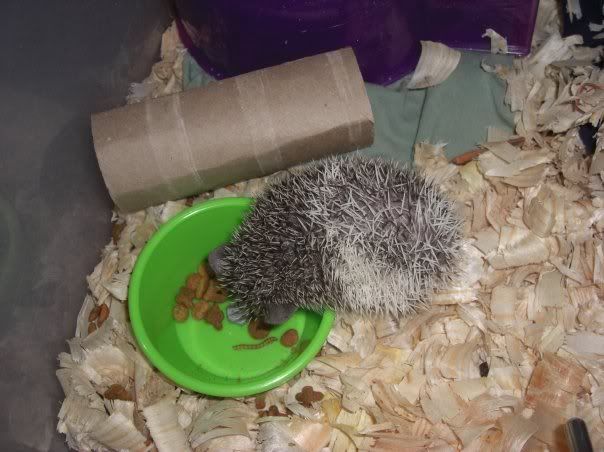 ~Melissa