Discussion Starter
•
#1
•
Well, today my little Regina turned 1 year old! (They grow so fast... *sniff*)
She got a pack of treats, a bunny stuffed toy, a little hedgie stuffed toy, and two scratch off happy birthday lottery tickets (she was mad that she didn't win either of them). I also got her a bike speedometer to keep track of how many miles a night she runs, and I installed that on her wheel.
I gave her a little foot bath before taking her birthday pics (she was cranky that she had to have a foot bath on her birthday :lol
so by the time I got around to taking her pics, she was having none of it and kept trying to run off. I did manage to get a few good ones, though! Here they are:
I have to give a shout out to shaelikestaquitos for the idea to make a birthday hat. I was wondering where I would find a hedgie-size hat, and then I saw Kashi's homemade hat! Thanks Shae!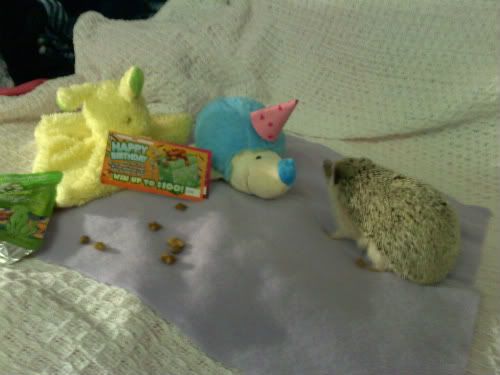 "Why are you wearing my hat? That's my hat!"