Discussion Starter
·
#1
·
I know there are a TON of threads on the subject, but I'm a bit worried about our little girl and whether or not she's ok...
Our girl is, well, we're not sure how old... The pet store told me 5-6 months, the vet said "she's definitely not a year yet... If I had to guess, yeah, maybe 6-7 months?"
I just stopped giving her antibiotics (like a day ago) since her face is all healed up now. (Clavamox drops + topical animax ointment on the sore). Her diet consists of chicken soup for the cat lover's soul (adult cat light formula) and wellness (healthy weight) and a couple of mealworms a day. Her skin seemed dry when we got her, but not so bad for the past week - until today.
Yesterday she was a little bit fussy - today, omg, she was like super, super fussy... I weighed her (300g) and afterward she seemed like she just absolutely did not want to be picked up, so I let her crawl into her snuggle sack... When I tried to get her to come out of her snuggle sack, I pretty much had to empty her out of it gently into her bed, but she actually grabbed a hold of the bottom of the bag with her teeth and didn't want to let go even. She was fine in my lap, fine with me peeking in on her, giving her mealies, etc... but she did not want anything to do with being picked up.... and now I can see why!
Not only was there a major, major abundance of flaky, dry skin, but between her bed and her snuggle sack I counted like 20 quills!!! :shock:
Is it at all normal for her to be quilling as late as 5-6 months? Could it be something else? It seems so sudden... Like, all 20 of these had to have come out JUST today and yesterday. Prior to this I hadn't seen her lose a single one. (...and, I know this may sound weird, but ever since I saw the thread where the girl had made necklaces with lost hedgie quills inside them, I'd been on the lookout in case Eva lost even one so I could save it... I definitely didn't expect to ever find 20 though!
)
I took a photo of the quills with a dime to show the size... Is there any way to tell if they're still just baby quills?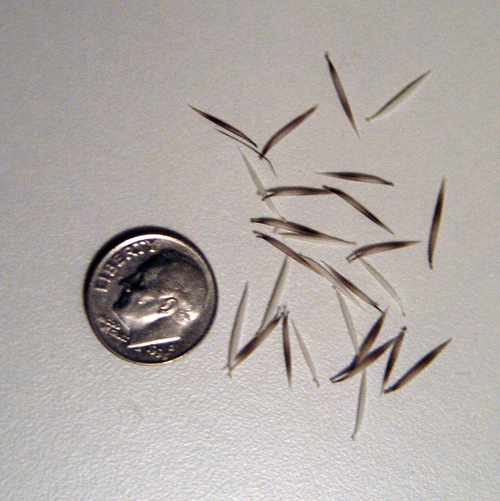 I really hope it's just a late quilling... I feel bad for her because obviously her skin is dry and she's just so fussy about being handled right now...