Discussion Starter
·
#1
·
so i decided to see what i was like breeding rats couse they do make great pets and iv had them in the past so i got and paired who i wanted and a few weeks water...
i got 36 BABIES!!!!!
its a lot but i found homes for all of them but 6 so far and they arnt even ready to leave until sept. 12th
this is my last time breeding for me lol to much work with so many rats..for now at least. So, Im keeping 4 of the boys and that's it
its so much fun seeing the babies grown and get there personalities!!Out of my litters i got...
17 Siamese dumbo's, one of which is a silver point and three are speckled seal points, about 5 out of this litter are rex(curly fur and whiskers) and then i got about 8 rex black self(the color raps all the way around there tummy) dumbos, two golden amber dumbos, a silver blue dumbo, a few chocolates, a black dalmatian dumbo, a chocolate capped, a black hooded dumbo, and a black and white spotted one that looks like a cow lol
they are around 2 1/2-3 weeks old right now, they are just getting there eyes open.
im keeping a black self rex dumbo male, the one what looks like a cow thats a male, a speckled Siamese dumbo male, and a rex seal point dumbo male.
there names are in order-Java,Mocha, Cappuccino, and Latte'
there so cute!! But the Siamese babies haven't got there points in, that's why they don't have any if you were curious
ill post a few pics of some of the babies for you guys
Black rex dumbo
Silver Siamese
Silver Siamese and Black hooded dumbo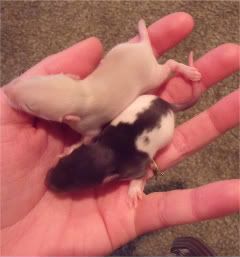 Chocolate capped(this one has a arrow on its butt
) and Black Self dumbo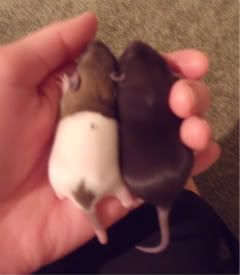 Black rex and Black hooded dumbo
Speckled Siamese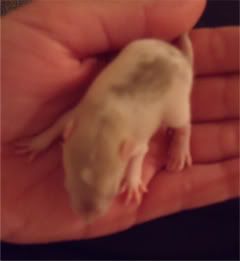 Seal Point Siamese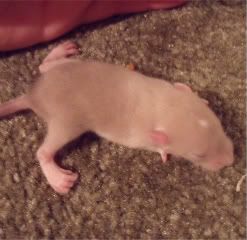 Black Self Dumbo-this one below has its eyes open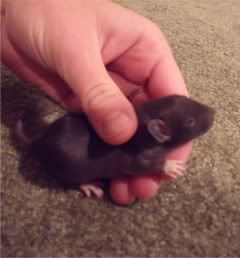 Chocolate