Hi! Congratulations and welcome! Hedgehogs show up at the oddest times, don't they? I'm sure Polly is going to make a wonderful addition to your family though! She is very different from your average out and about hedgie that I hear about across the pond, and as you know, she has different needs. So, I have scoured the forums looking for some helpful links for you.
Let's start with this tidbit of info I stole from this thread:
https://www.hedgehogcentral.com/forum...baby-home.html
These are things that must be considered BEFORE GETTING A HEDGEHOG! Before one even considers adopting a hedgehog and bringing it home, you should make absolute certain that you are able to provide
-a good quality cage that is appropriate for hedgehogs
-PLENTY of high-quality recommended cat food
-a suitable wheel
-a comfortable temperature.
-veterinary care with someone experienced in hedgehogs
Not that you don't know this, but it totally bears repeating. Let's start with part 1, a good quality cage. This is important as it is where Polly will live. Everyone has different ideas about what a good quality cage is and since Polly was sort of dropped on you I would start with something simple. I use these: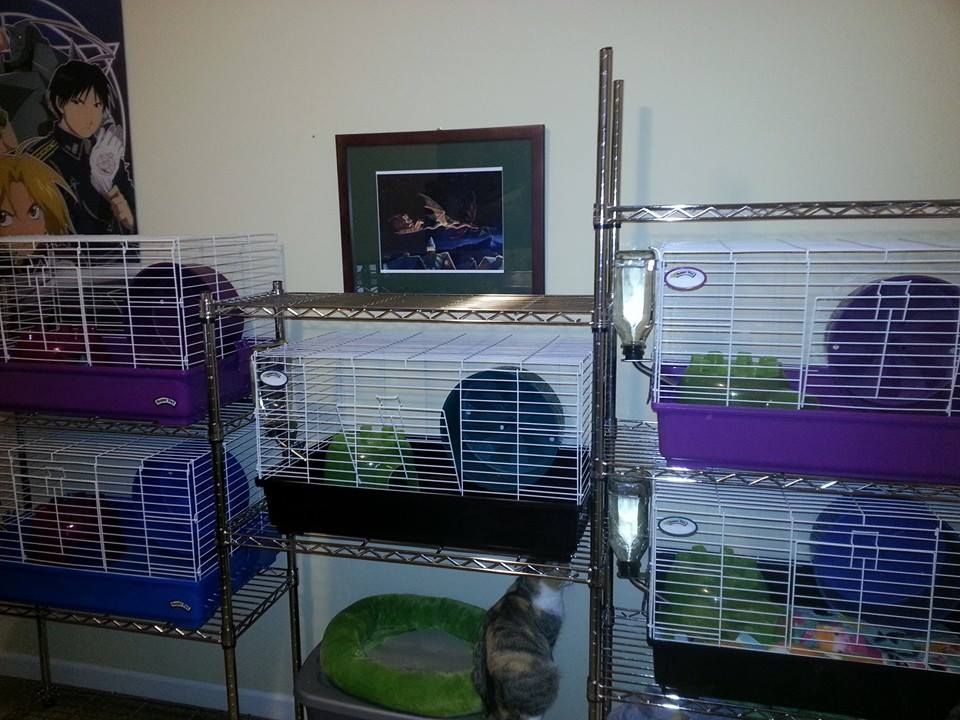 But I have a bunch of hedgies
They do the job though and keep my little ones safe when they are unattended. For a longer term solution with lots of space any of the ideas in this thread:
https://www.hedgehogcentral.com/forum...-examples.html
Number 2! Food is oh so important for a hedgie. And we have older threads that cover tons of various types of kibble, or biscuits as you say, and also a few recent and wonderful threads on raw feeding.
https://www.hedgehogcentral.com/forum...nutrition.html
https://www.hedgehogcentral.com/forum...endations.html
https://www.hedgehogcentral.com/forum...adventure.html
I don't actually know what foods are available across the pond, but I feed my brood a mix of 5 different kinds of blue buffalo kibble and about 15-20 grams of raw/cold/wet cat food every evening to keep a balanced diet. They haven't died yet, so I think its ok...
#3! a suitable wheel! I think you may want to look at something like this:
https://www.facebook.com/Hogwheels?f...rofile_browser
I don't know if it's local, but it's a lot closer than Larry, who I would otherwise recommend in a heartbeat. Very similar product.
And now the killer, a comfortable temperature. I recommend this thread:
https://www.hedgehogcentral.com/forum...implified.html
I am a big fan of a CHE with a thermostat for a single hog, and for a quality room heating space heater with a thermostat for multiple hogs. That is my opinion, a lot of other people have different ones. But we all agree that for the APH, temperature is crucial to their health and well being.
As for veterinary care, if you are out rescuing your local breed, I'm sure you have a pretty good contact in the area that would have a decent idea of what to do with an APH. But we do have this forum:
https://www.hedgehogcentral.com/forum...rian-listings/
Other things you may want to consider:
Bedding:
https://www.hedgehogcentral.com/forum...-cage-bedding/
I'm a Fleece girl myself.
Lighting:
https://www.hedgehogcentral.com/forum...-lighting.html
And of course, since Polly came from a bad environment and you are just getting to know each other, try here as well:
https://www.hedgehogcentral.com/forum...ectations.html
And the entire forum area is pretty helpful so try this too:
https://www.hedgehogcentral.com/forum...ity-behaviour/
And this:
https://www.hedgehogcentral.com/forum...bie-owner.html
Bonding with Polly is going to be very important. This was my recommendation to a member who asked me about how to tame his hedgie:
The general wisdom is this:
Spend AT LEAST 30 minutes a day with your hedgehog. Holding him, or just being with him while he wanders around you.
Remember, not all hedgehogs are cuddly. They just aren't. A couple of mine really prefer to just run around and be talked to during their bonding time.
You can bond by holding your hedgehog in a fleece sack, holding him directly on you under a fleece, or you can bond as I just mentioned, by just being with them while they do their thing. But you have to BE with them. Talk to them, pick them up sometimes, chat them up (hedgehogs are awful at talking back though, so it's a one sided conversation) Speak softly. Use nice words. I don't know how they know, but they know.
Find out what kinds of treats your hedgie likes. Give them to him sometimes. But don't over do it. Too much is just as bad or worse than not enough.
Does he have a wheel and all the important stuff for his cage that are mentioned in the forums? Wheel, fleece, igloo/hiding spot, etc? Is he kept of a strict lighting schedule? Is he warm enough at all times? I ask because a well kept hedgie is a happier hedgie.
Are you afraid of him? Like, are you nervous of his quills? Because they know that too. They can smell fear, and if he thinks you fear him, he will respond to it.
Maybe it will be helpful for you too
I hope the information here is helpful to getting you and Polly both settled. I know what it's like to have something unexpectedly drop on you. But gosh knows you can't walk away from that adorable little twitchy nose. I'm sure it will take Polly a while to acclimate, but she will be fine after a while. And so will you!