Okay so...I misbehaved tonight.
I feel bad because I swore up & down I was never going to buy from pet stores. Never say never...sigh. I still feel guilty (especially because hermit crabs are ALL wild caught, no matter what the supplier or store tells you), but I'm also really happy because my new girl is really happy and I'm already in love.
On the plus side, the pet store's conditions were great, the best I've seen from a pet store in this area! A couple inches deep of Eco Earth, very damp, two water dishes (so I'm guessing one was fresh, one salt), they were given fresh food (lettuce & not sure what else - the store carries Repashy's crab food, so maybe that?), and they were all in natural shells. The only thing off was no source of heat, but this pet store had a fire a few months ago & they're currently in a different, smaller location, and still trying to get things reorganized & set up. I mentioned the heat thing to the employee as I was checking out & she was very nice about it & said they're working on rearranging reptile set ups. I was also thrilled because they had their betta fish each in 1/2 gallon bowls - a very nice change from the tiny cups that Petsmart & Petco keep them in! The water was very clean & all of the fish looked healthy & active. I may be getting a betta fish from them if I don't get one from rescue via Craigslist.
So anyway, enough about the store! Meet Shelob, a beautiful large girl.
In her travel container when we first got home
She's starting to come out in this picture, but it still shows how small her shell was - she could fit her head in, but half to three quarters of her legs couldn't fit in.
That, along with her clearly needing to molt soon, was what spurred me to buy her.
Hello, beautiful girl!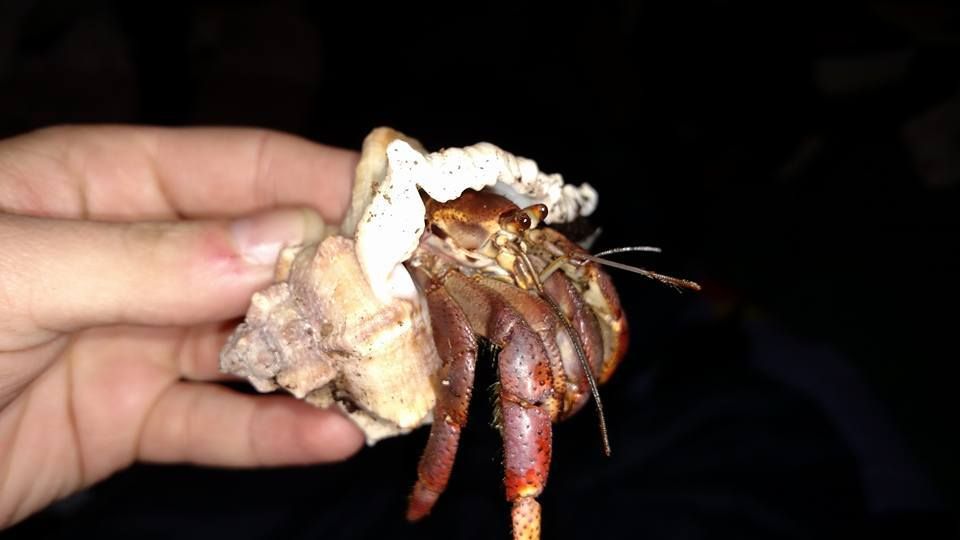 I can't wait to see what her colors look like after she gets a chance to molt. She's kind of mottled lavender, pink, and red right now.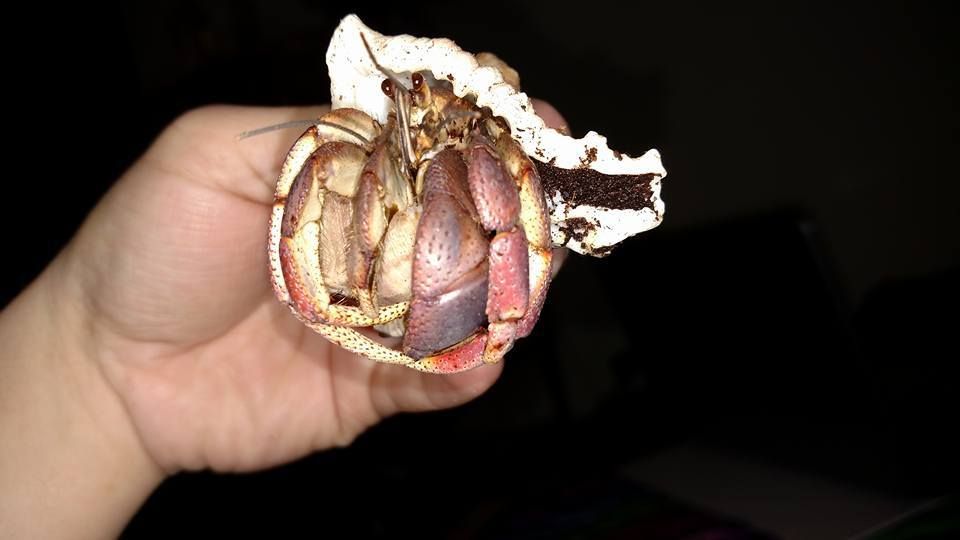 I was rather nervous after she came out in the travel container & was trying to escape - I underestimated how large she was!! I only have three crabbies (two are small, one medium), but I only have a 40B tank right now, with 7-8" of substrate, so I was getting worried about having deep enough substrate for her. Luckily, she looks like she's a large, so it should be just perfect for now! I'm hoping to move them into a 55 gallon tank when we move in December, which will be their new home for quite a while, so I won't have to move them again anytime soon. My other three have had a hard time with how much moving they've had to do with me since I got them.
Not ideal.
First introduction to her new home. Her antennae went nuts at first & she also dug at the sand a little like she was relishing the feel of it.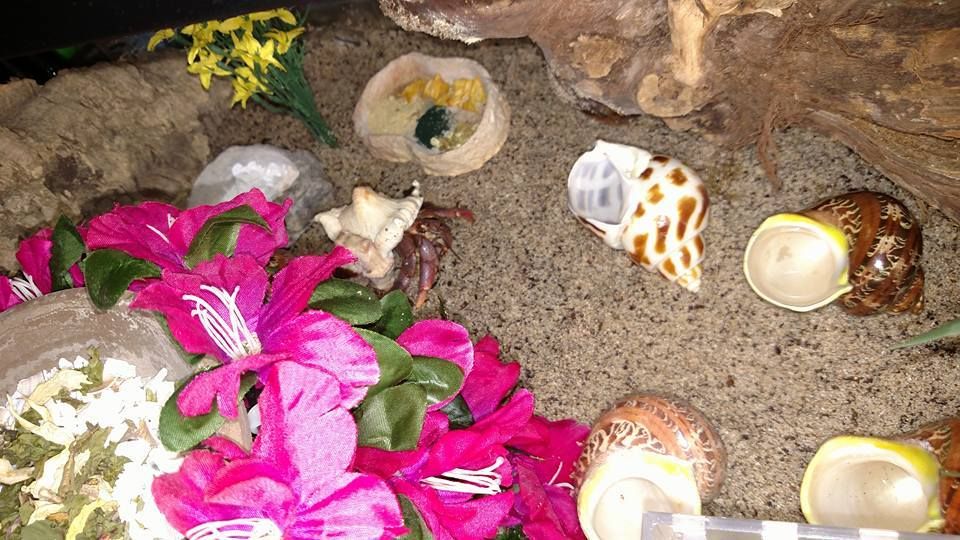 She started to walk around and the first new shell she ran into (I'd rinsed all of my large shells off, put a little salt water in them, and placed them hole up on the substrate for her) was my largest Babylonia. She immediately checked it out & rotated it several times for 5-6 minutes, then moved over right in front of me!
Very cool!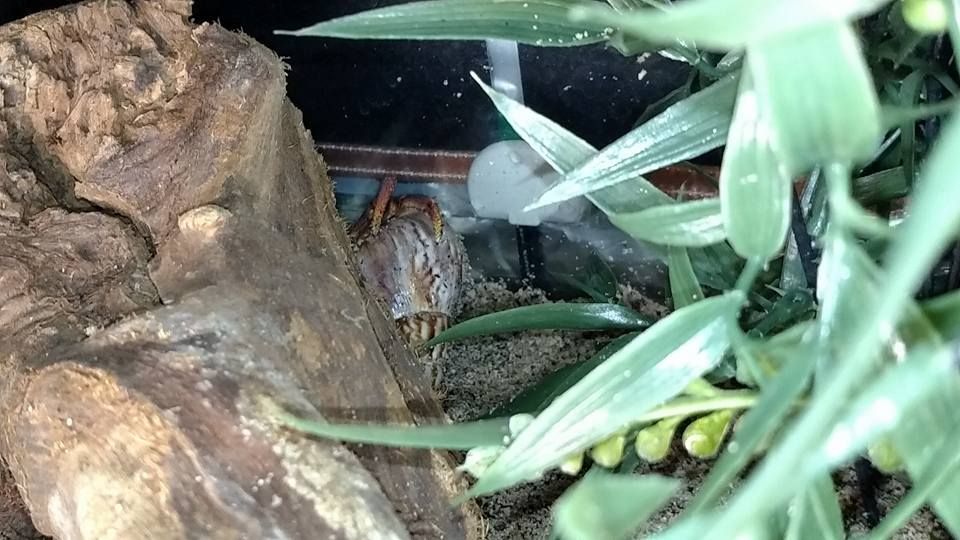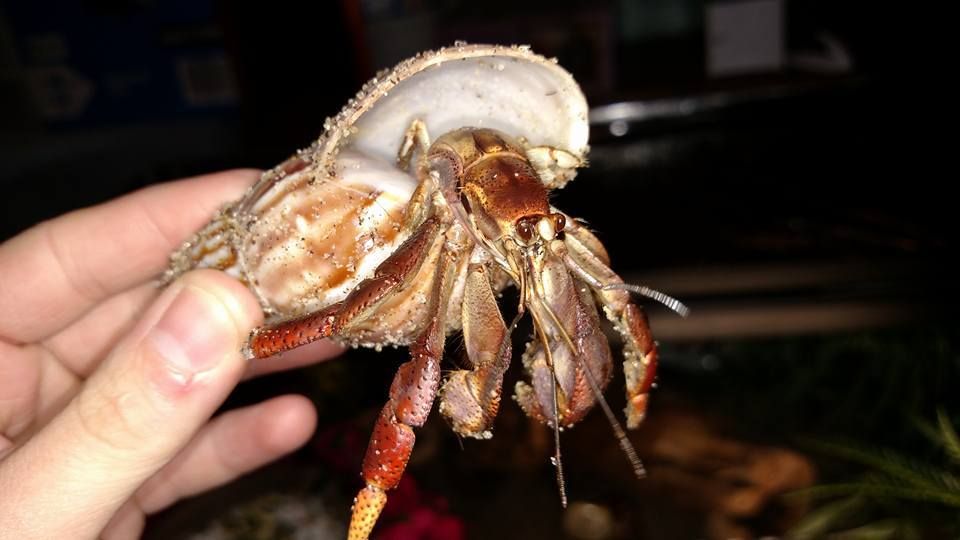 After I took that last picture, I set her back down in the middle of three large turbos. She froze for a second as if she was in disbelief - "What. More...more shells?? All of them free? Really??" There's a severe shell shortage in the wild, so this very well could've been the most empty, suitable shells she's seen in a long time, possibly ever! (Please don't buy shells for decorations! We only like them because they're pretty, but animals need them for survival. Shells from the beach should stay at the beach. People also frequently bring home crabs by accident because they don't realize the shells they picked up had inhabitants. Those crabs are typically marine hermit crabs & almost always die before the humans can do anything to get them back into proper conditions.)
She immediately started checking out the one on the left & hopped into it barely a minute later. Such a happy crab!!
Final picture for tonight.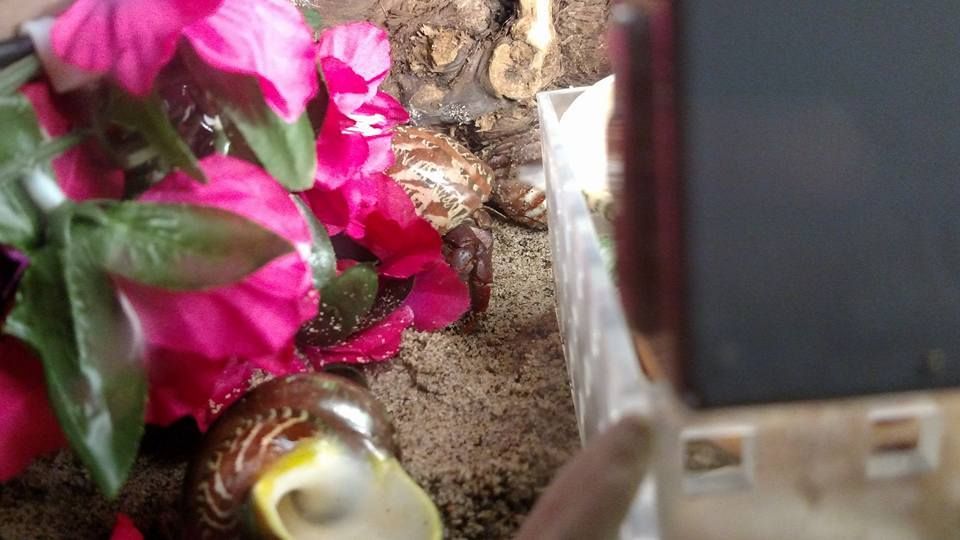 I turned the tank light off to leave her be for the rest of the night now. Last I checked, she was chilling underneath the flower/leaf dish. Hoping she'll eat some food before she decides to burrow down for destressing/molting! But we'll see. She still has lots of shell choices if she wants to keep trying on some new clothes. I'm so happy she changed so quickly!