September 14, 2014
Dear Pet Journal,
Good morning and happy Sunday! It is a glorious autumn morning here in mid Maryland. The sun is shining, the sky is a brilliant blue and presently the temperature is only in the high 50s, maybe low 60s. A bit cool for a hedgehog, but quite perfect for a Grace.
Autumn is my favorite time of year. I love the crisp air, the sense of the turning wheel of the seasons, the colorful leaves. I enjoy the oncoming of winter, but for all of that, I donít care for snow. So it is a short but amazing time of year. I even enjoy seeing the bare branches of the trees against the heavy cloudy November sky. Part of it is a bit religious for me, being a solid pagan with Wiccan leanings. But mostly, it is really just my favorite time of year.
This year is a bit different from all the ones before though. This is my first autumn with hedgehogs and at the top of my mind is their health and well being. We got Sebastian in February, so we had to be prepared for cold when we got her. And we are, donít get me wrong. But I keep wondering, is it enough? Should we add more, just to be sure? We heat the hedgie room with a Dyson space heater. It had an internal temperature control that we set at 72F even during the summer, just to make sure everything stays where it should be. 72 degrees on the Dyson means more like 74 to 76 in the cages as the Dyson is near the air vent. Last winter it did the job quite well. We have a back up little propane heater, just in case of electrical emergency. Iím thinking that was great for one hog, but we may want another one or two just in case, to heat the entire area where the kids are.
Iím considering adding CHEs to the cages, but Iím not entirely sure how to attach them given my present set up. Obviously I can put them on top for the top cages, that is easy. But I donít know how I would heat the bottom cages with a CHE just yet. There is no space between the cage and the shelving to affix a CHE lamp. And I would worry that having the lamp on the side of the cage would be too close to the hedgie. Having it mid between the cages could put too much heat on the plastic bottoms, and wheels and cause damage to them.
Itís a situation I really need to put some deep thought into. And probably money. Which I donít have. Because of Panama
Who is doing quite well, by the way. He had his splint replaced again yesterday and next Saturday he goes back for follow up xrays to check on his progress. MD has a law where all domestic cats need to have rabies shots on a yearly basis, so he got his rabies shot yesterday as well. Just in case the house is attacked by an army of rabid raccoons, at least Panama will be safe. I couldnít take it, is really what it was. The vet tech in the office looked at me like I donít take care of my animals, and rather than explain to her that I have spent close to 1200 on Pan in the past 3 weeks and canít afford to see my own Dr. to get my own medication for blood pressure, I just paid the 30 bucks for the rabies shot. If she had pushed me again I might have had a heart attack on the spot, so it was a selfish action on my part. The other cats are going to have to wait though. I really do need to get my financial feet back under me. It has been a tough year for pet costs.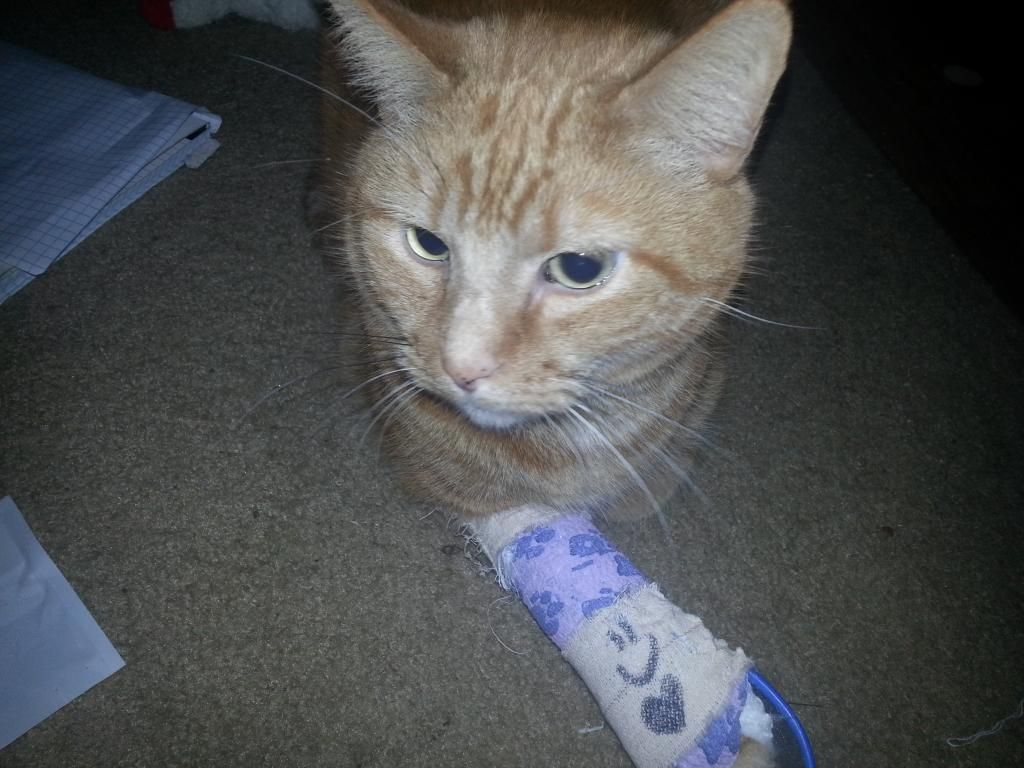 I discovered this morning that my pokey children donít like raw beef. I was surprised. I offered them raw beef Vital brand something or other last night. Only Tiberius ate all of his. The rest of them, all 5 of the rest of them barely even touched it. Even Gabriel, who will eat almost anything.
Guess who gets to finish off the raw beef?
Most of the kids really seem to prefer fish or fowl, so Iím going to hang out in those veins more. Except for Gayle, who will pretty much only eat kibble. Iím afraid she is going to die young from kidney failure. But I keep offering her the other options.
Is there any reason we donít offer pork to hedgehogs? Is it too much like cannibalism? Or is it actually the trichinosis issue? If the pork is cooked, that would not be a thing. I had just noticed that nowhere in the raw food threads, or the raw food section at the store, or pretty much anywhere, is pork even mentioned as a food option for hedgies, cooked or raw. I understand bacon, and ham, too salty. But a cooked porkchop, unseasoned, should not be an issue if it isnít against any kind of religious ban. Unless there is something going on I am unaware of, which is always possible