I know this is an odd place for this post, but it will make sense.
You just have to bear with my pre-dawn rambling. I am actually getting ready to order some new Pippin Accessories (cuddle bags, carry sack, liners and such), and was actually looking to see what Pippin's fans think. I just have to get it from my head out to you guys......
I know many of you have been following her stories, and seen her pictures. When I first set out to bring Pippin home I personally went out fabric shopping and picked out the two fabrics for her liners and cuddle bags, you guys are seeing in her pictures. The blue leopard print and the purple and gold paw printed fleece. Her breeder also sent me with two hedgehog print bags that aren't seen as often. They were, for me, starter fabrics just to get her settled in and for me to start building a bond with her. Now that Pippin has had some time with me (almost a month-it flew by so quickly), I think her personality is starting to shine. I even believe that it's starting to come out in her stories. I love the fabrics that I picked out, for what they were. I just don't believe that they suit Pippin's personality. I want her new Accessories to reflect more of who she is.
Many of you have even envisioned illistrations to match her stories. So, my question to you guys is, when you read her stories, and picture her in your mind's eye while giggling at her antics, what color stands out to you? Is Pippins personality a coral, violet, blue, red, is she a glamour girl and pink, or is she a green rough and tumble gal.. What color do you think reflects Pippins budding personality? I know that might sound weird, but I'm an odd bird. When I place the order for her new accesories, I'd like to incorporate her personality into them, and what better way to express her mischievious self than through the colors she is surrounded by? I realize she can't see them, but we can, and I think it would be kind of fun. Yes, I am a total dork, and I am okay with that.
What color is your Hedgehogs Personality?
And of course, just because, another picture of our little explorer and her sweet little nose: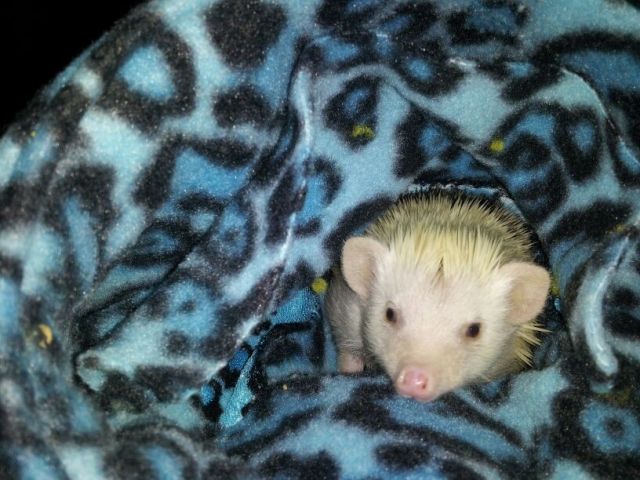 I haven't forgotten about the blog. I'm working on a piece for you guys.....