I started out on Zoloft, and that was baaaaad. I got every single side effect it has listed, even the weird rare ones. It really just depends on the person, and the doctors never seem to guess right the first time. There are tons of other options out there if you decide to try another one!
Haha, egging each other on might be worth it. I'm planning on starting tonight if I can't sleep, or tomorrow after my appointment. I asked the boyfriend and he said he'd love a little booklet of pet directions just in case. I've been stalling because SOMEONE dropped dry flaked fish food in the printer a few years ago and it hasn't worked properly since... It might have been me
. Just means I have to get off my butt and go to Staples to print everything, so it's not a big a hassle as I'm making it out to be. It's at the top of my to do list, really!
Honestly your trouble with Pancake along with Pepper's reaction to her water bottle were what set me on the right path. I was almost convinced it was an eye infection and then I was thinking about Finn because I hadn't played with him yet, which switched to Pancake, and then everything just clicked, so off I ran to get some Pedialyte. So Pancake's difficulties lately totally helped Pepper and I out.
She's currently screaming at the back of my head. Her eyes look a little sunken still, but much better. They're all the way open and they're shiny. Still no bad side effects from the dehydration. She's drinking about 5ml of the Pedialyte every two hours. I put some in her new bottle and she wouldn't touch it, so I switched to water and she still won't touch it. She may have a grudge against bottles now, which I can understand. Once I'm done typing here I'll go and find a spare hook-on bowl and try that.
If I had to force feed her I probably would have just taken her to the vet. I've syringe fed baby birds of all types but they always took it willingly. I think you'd need a narrow tube attached to the syringe and then you'd have to stuff that into their crop, which is really sensitive. I'm definitely not comfortable there. I tried feeding her the Pedialyte on the side of her beak like she was a baby, but she informed me that "I can do it MYSELF!" and just licked the droplets off the end of the syringe with her tongue. It's working, so I'll take it, but it looks ridiculous and it's so slow. The attitude is still in tact despite the dehydration, and that's fine with me.
If the raptors held a grudge, we'd have a tougher time rehabilitating them, I'll bet. Imagine an angry hawk with a parrot's brain. You wouldn't be able to get near it!
Okay, and now, snake pics! Aki took the rest of his shed off himself, so I'm super proud of him! Illidan's came off in four chunks, as usual, but it all came off. Sherlock and Kerrigan were perfect. I didn't get a shot of Sherlock because he's really tough to photograph, and the one where he's in a ball is pretty much the same idea.
The skins: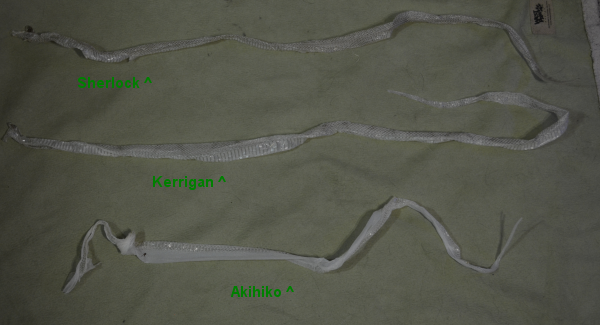 Akihiko: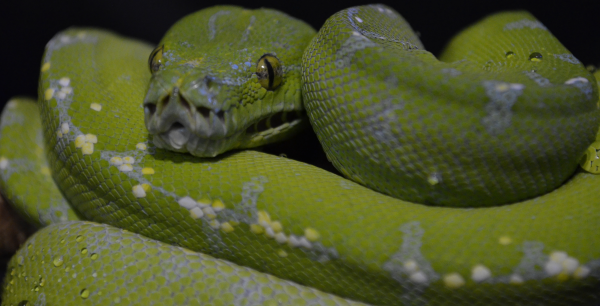 Illidan: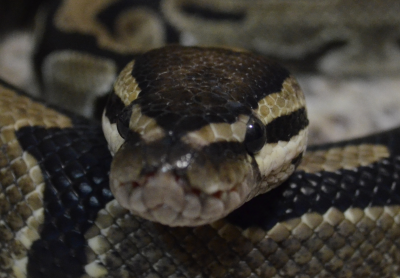 And Kerrigan:
I wanted to get Kerrigan's scales too, but she's not really one for holding still like the pythons are. Everybody is so shiny!
And here's Oz saying "y u sneks?! y u not doge!?"