So I thought I'd start a thread for sharing pics & stories of Bindi. And because I take as many pics (more, to be honest, since Bindi spends most of our social time sleeping) of the snake & crabs, I'd like to share pics of them here too, if no one minds! I just like showing off my babies.
Pictures of the Potato Princess first, of course!
I got a fantastic selfie with her a while ago. I can't remember if I posted it here, but I don't think I did.
Got these very cute pics of her a couple nights ago before I put her away for the night.
Peekaboo!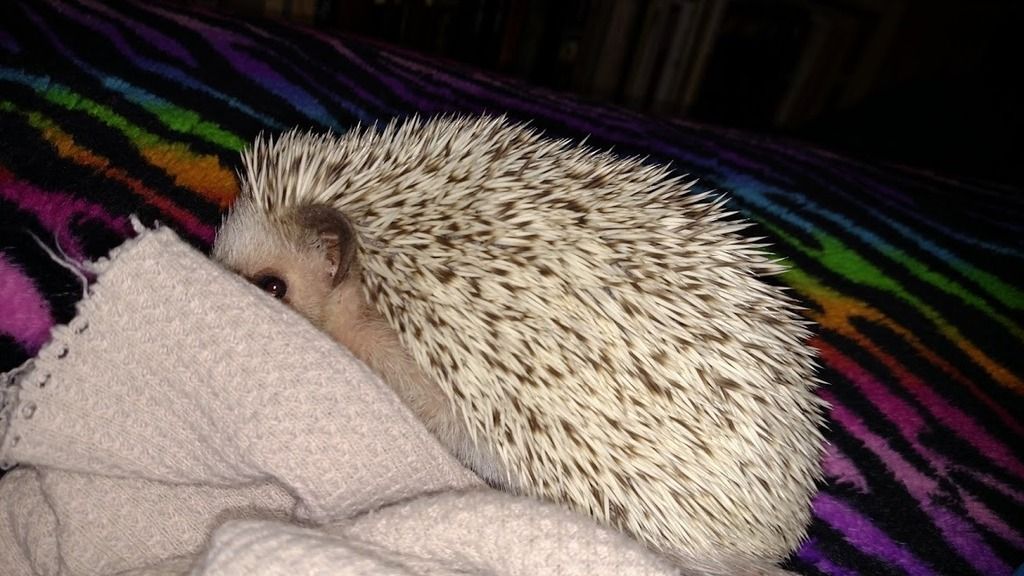 And I swear, she doesn't know she's a hedgehog. She's so SNUGGLY! I meant to put her away to go to bed...and instead I laid down with her on my chest and she immediately crawled up to my neck and snuggled in. So of course it was 15 more minutes before I actually put her away.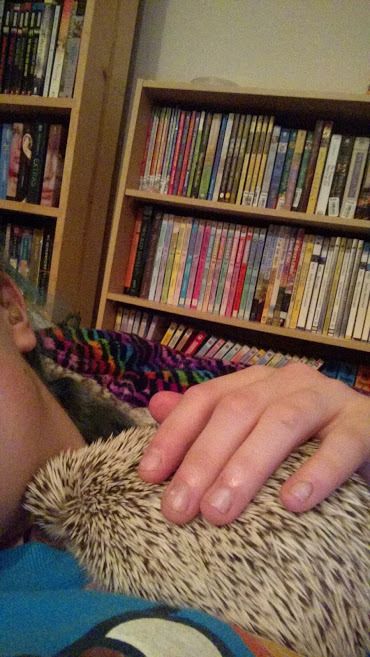 Next up is the crabs. Here's a picture of their new tank set up!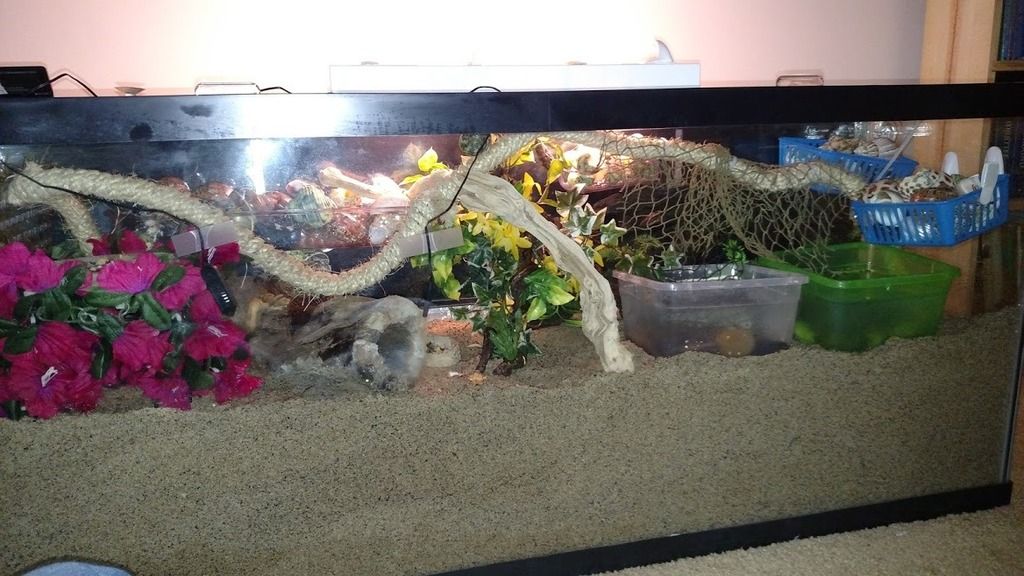 I love it so far. Easy to get the water dishes out, they have a ton of shells available, they can go from one end of the tank to the other without touching the ground if they don't want. Lots of cover too, but still a few places of clear sub where they can dig down. Here's hoping they'll soon forgive me for putting them in prison while I did this and actually come out to enjoy this!
Sam and Pippin are the only ones I've seen all week any time I've checked the tank.
This is Pippin hanging out in the DIY mangrove tree I made. First time I've caught someone in it, so I was really excited! Not a very close picture, but I couldn't get closer without the flash reflecting off the glass to hide the whole picture.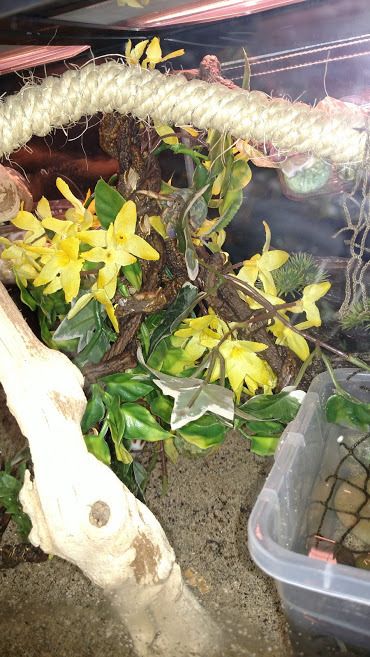 And here's my pretty girl, Sam, hanging out on the mopani log. She just moved into this shell since I rearranged the tank, it's one of the new ones I put in. She was super excited about all of the new choices!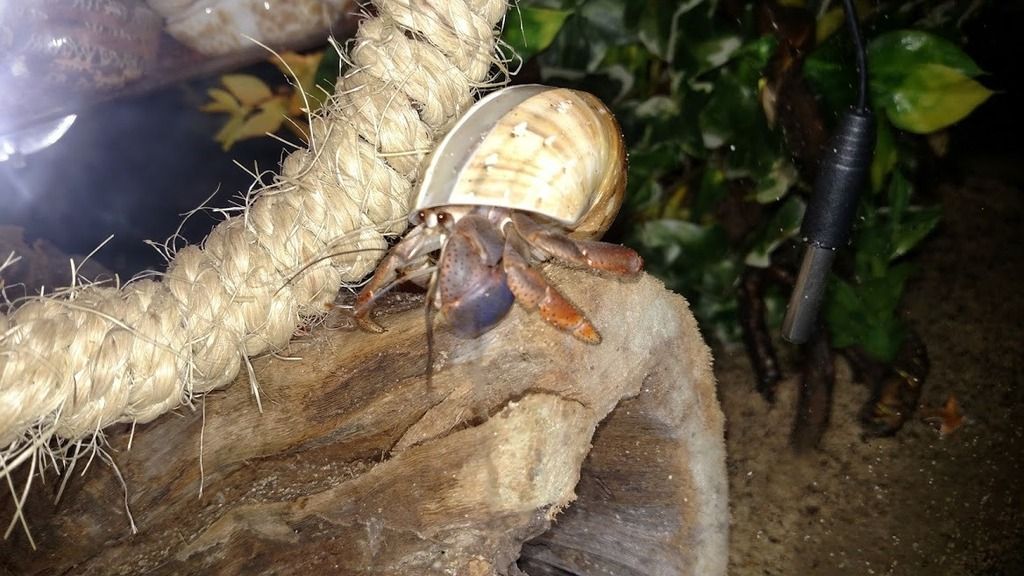 And finally, Charis, our ball python. I have a bunch of pictures of her because she's just so photogenic! Her social time is mostly spent with her exploring & checking things out, so I also have more opportunities to get pictures in the first place. She's been out every day this week since Tuesday (she ate Saturday, so no handling Sun or Mon) and has done awesome. She's just such a calm, sweet snake. She really seems to enjoy coming out & checking things out. And I love it because a) I get to interact with her and b) it's super easy enrichment!
Here's my snake selfie to match my Bindi one.
Took this a few days ago when I first got her out.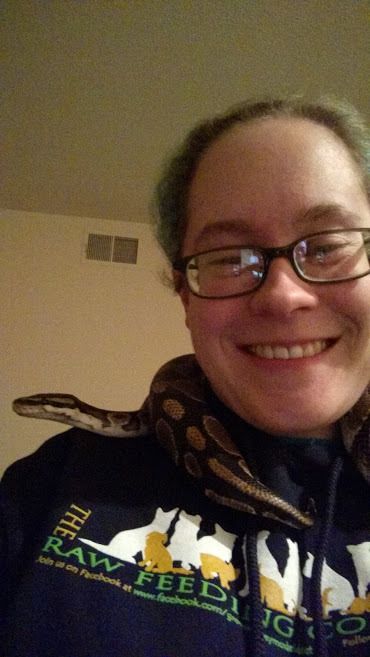 The same night I handed her off to the roommate after a while and she ended up like this for a short bit before it was exploration time again.
Not a great picture at all, my roommate was too far away from us (didn't move closer to avoid scaring Charis back) and I had to crop it. But she spent last night's social time exploring our chair & had a great time. Here she is peeking out around the arm.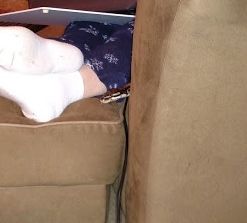 She also curled up under & behind one of the pillows for a bit. She matches the chair color so well. How fashionable!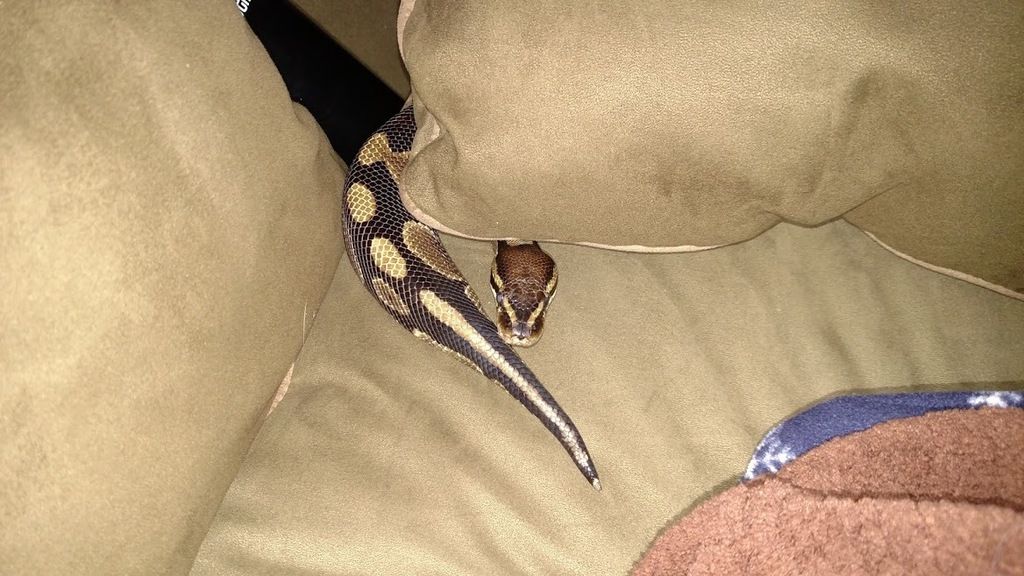 Tonight's social time was great for me. She was in her hot spot warming up when I went to get her out. She decided I was an acceptable replacement & was content for once to snuggle up in my hoodie and stay put for the most part. I got these adorable pictures of her peeking out of my sleeve!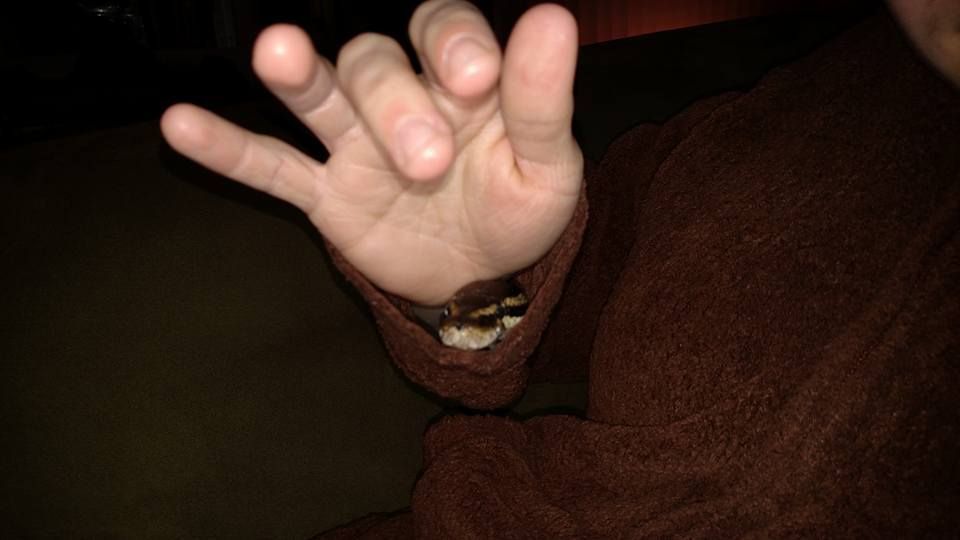 I got so lucky with both of my "big" girls (big compared to the crabs
). They're both huge sweethearts!! So calm & good-natured, especially compared to usual behavior shown by both of their species.