Sorry to hear Hercs s sick again.
For syringe feeding him if you are only getting in 1CC at a time he needs to be feed hourly, 2 CC's then every 2 hours, 3CC's then every 3 hours and so on.
Try getting a 10CC syringe for the pharmacy or walmart, called a toddlers syringe. This helps as you don't need to waste time refilling the syringe.
Them struggling is the hardest part though what might work for you if he is uncooperative is to swaddle him like a baby. Make sure his paws are all in and the swaddle is very secure.
Couple step by step photos to go with it modeled by Romani:
10CC Toddle syringe filled with Hills A/D
1.) Swaddle and hold him in on hand( you can rest your hand in your lap as support after his is securely swaddled)
2.)Put the syringe into his mouth from the side (it's okay if he bites it, just don't let the syringe come out)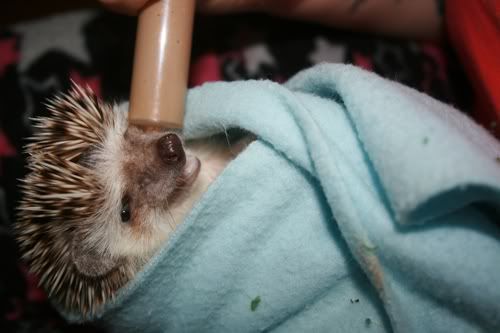 Try to get at least 4CC-6CC into him each feeding. Take it slowly and only put a little bit of the food into his mouth at a time ( I get .5CC each time I push on the top of the syringe at a time with my herd but they are used to been syringed). Main this to avoid is him gagging on the food, if he does just wait and let him swallow it.
Pick up some Hills A/D or similar from your vet. It is easiest to syringe with.
Hope that helps.
Edited: Added more!