Hey everyone, some of you may have already heard through FB or what not, but Inky has come across his first health complication. Two nights ago I noticed he hardly ran at all, and so when I did his nightly weighing I looked him over and found a half-pea sized lump on his right front leg.
I gave him a footbath and observed him moving around, and he was putting weight on the leg fine and seemed normally active and happy, no signs of pain or anything. Pictures from last night: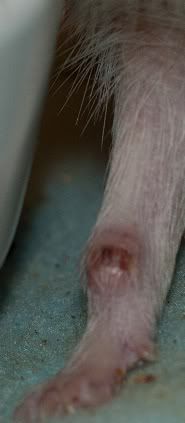 This morning when the vet opened I called, and they got him in for an appointment immediately after. Went in, vet took a quick look and we decided to be sure it didn't involve the bone at all, to both do an xray and a needle biopsy. So we sedated him (isoflurane? sp) in a small tank, then transferred to a mask. His vet first took the xray, then went ahead and scraped the top layer of the lump off. It was all just pus in the top part. While she was working on getting a tissue sample I noticed a small spot, about the size of a zit hidden in his armpit hair. (when she looked at the lump sample she also looked at the little armpit lump) We took a look at his mouth while he was out too. His cute little teeth... made me happy to see he has so many left. He's lost a few but still has plenty to chew. Finally she cleaned up the now-open sore on his leg, and took him off the gas. He came around in only a few minutes, and was demanding mealies shortly after.
Passing out, in the tank first:
Transferred to a mask, this is right before we taped down his paw for the xray: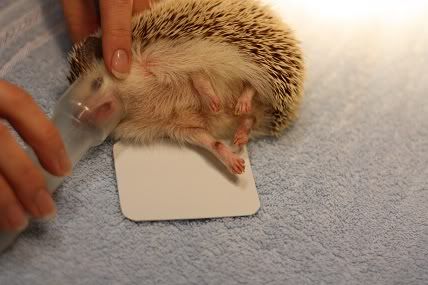 The xray showing his healthy bone: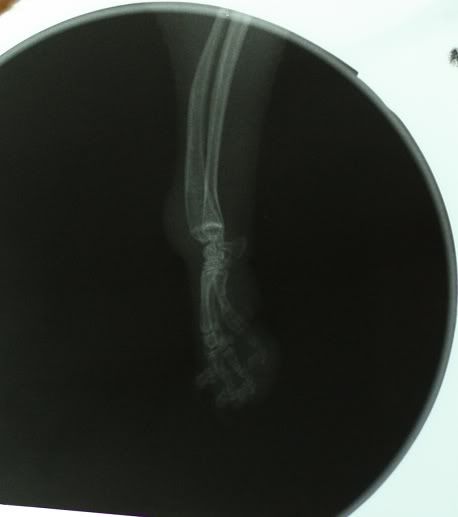 Removing pus/infected tissue:
Cleaning his leg up:
Checking out his teeth:
Gas off, checking his heartbeat: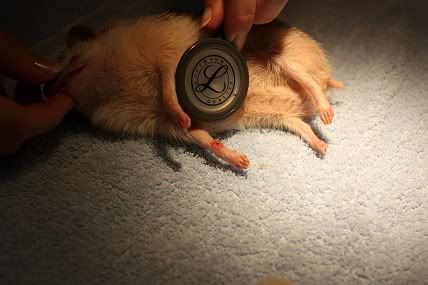 After he came around and ate his "you are such a great boy" mealies, showing off the wound: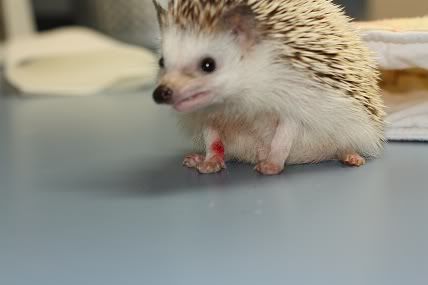 I went home with directions to clean the wound 2x a day with a diluted chlorhexidine solution, and he's on Clavamox 2x a day, 0.1cc. When we got home I gave him his first dose and he ate the mealies coated in it without an issue (it's bubblegum flavored).
Final thoughts are that it is either a tumor, or just excessively swollen due to the infection. She's calling back in about 2 days with the results, I'll keep everyone updated. Please keep your fingers crossed that it isn't cancer...
Kimberly & Inky