So I've had Ivy for a few months now and thought I would finally introduce her to Prim. They seem to do pretty well. They don't LOVE each other but they eat a lot better and are much more active when they are out. I set up a pretty big area, almost my whole room, with both of their wheels and all 4 bowls and two separate hiding places. At first Prim would huff a lot when Ivy would try to smell her but Prim has not accepted it and is smelling Ivy too.
Sometimes Prim does get a little too.. determined... and I have to move her away from Ivy because Ivy is huffing and Prim is getting a little too interested.
Prim is on the right and Ivy is on the left
Prim is still on the right.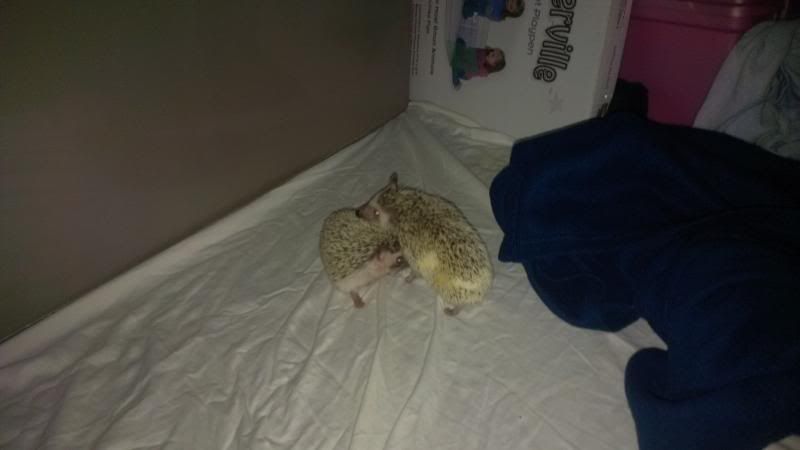 That last picture is when I had to move Prim away from Ivy. Ivy doesn't really run away and when she comes by Prim she sniffs her and everything, so she doesn't seem scared of Prim.
Any ideas as to why Prim is practically stepping on her? And she seems to want to smell Ivy's lady parts, almost like how does sniff each others butts in greeting? And yes, I am absolutely positive that they are both girls lol. They do not live together, they only are together for 30-90 minutes every few nights. Is their behavior normal? What exactly is normal behavior for two hedgehogs when they first meet? lol
Thanks!