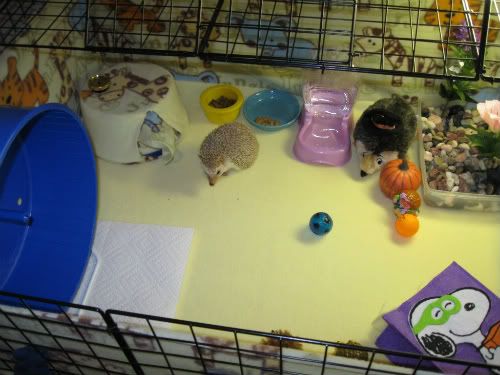 I made a rock garden for Izzy and Harvey. I used plastic plants to add obstacles/interest. I haven't seen one using real plants. You would have to use dirt to keep the plants alive. I think this would probably be a mess. The silk flowers in the picture were a pain to make stand up, then I saw other people use silk aquarium plants. This works out sooooo much easier. The ones I initially made in the photo fell apart very quickly after a few washings. Now I use aquarium plants, but I don't have a pic of that on hand. It's important to use silk aquarium plants, not the hard plastic, to prevent injuries. Hedgies can scratch or poke their eyes so easily.
Also, when I washed the rocks, they had an oily residue on them. I had to wash them several times, then I ended up putting them all in a colander and pouring boiling water over them several times and cleaning them with vinegar/water solution. Wash the rocks until the rinse water runs clear.
Then you just need a shallow dish to put it all in. They use the rock garden as a cricket/mealworm hunting grounds. Once they understand that treats are in the garden, you can start burying them under the rocks and listen to them flip the rocks around to get the yummy treats.
Good luck and post some pictures of your creations.