Yes
Quote:
Originally Posted by StinkyHedgie
Ok, this is probably going to be for the experts because i can't find an answer anywhere...

Can hedgehogs have/carry ringworm? and if so is it common and what are the signs and symptoms..

I handle stinky daily and I just came down with a red thing the size of a penny where he normally burrows on my side..I went over to my moms house and she says shes positive its ringworm...

I'm not blaming stinky for it but i also want to be safe and not sorry....Since finding it I haven't been handling him since im worried about passing it along in case they can get it...

and for people who have no clue what ringworm is...its not a worm lol its a fungi infection....which is why i was thinking it came from Stinky
Yes hedgehogs can have/carry ringworm and yes it can be pasted onto you. You can also pass it onto your hedgehog.
In hedgehogs it would appear as dry crusty areas sometimes red and inflamed looking on a hedgehog, quills loss is likely as well in the spots they have the crusty areas.
In yourself, Size can vary but it is generally a round red crusty raised area on any part of your body, Most places it would be is were he snuggles into your on bare skin. Doesn't also form a ring it can be an entire fill in circle.
I've attached a couple of pics of Ringworm on a hedgehog, this was my girl Romani before she came home from the breeders. This is about 2 weeks after infection and she was on medication and an anti fungal shampoo.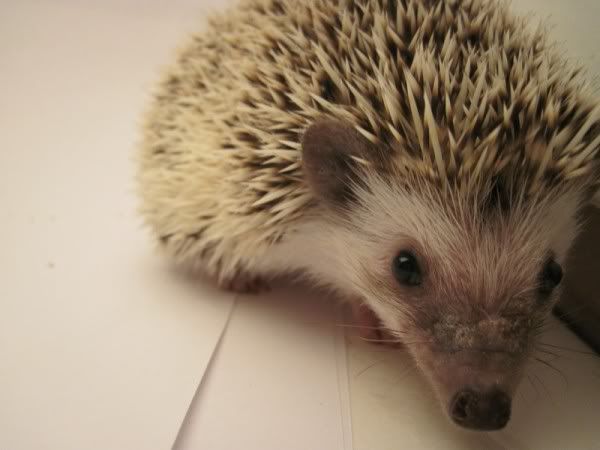 Vet can give you medication (I forget the name but can find out if you like) and a anti fungal shampoo for Stinky to be on the safe side.
Yourself, just use a topical treatment cream and it should clear up.